A Sonic Smorgasbord
Howdy folks, it's that time again.
A sonic smorgasbord is what i promised and that's what i've delivered. With so many exotic flavours on the menu, there's bound to be something here to tickle even the most jaded palette.
In keeping with the smorgasbord theme, today's first course comes from Sweden's HEAVY LOAD. This is their 1981 mini LP, "Metal Conquest". They'd released an album a few years before this one, but this is where they found their sound and really hit their stride. Bad-ass viking Heavy Metal. If you've never had the pleasure, this should be your starting point.
HEAVY LOAD - "Metal Conquest" Mini (1981) Sweden
http://rapidshare.com/files/12397405/HEAVY_LOAD_-_Metal_Conquest_Min
i__1981_.rar
I had a request for something by MORE a little while back, so here are two tasty morsels by the London based NWOBHM band. Their "We Are The Band" 7" has a non-LP b-side, the excellent "Atomic Rock" and we're proud to present their live set from the 1981 Castle Donington "Monsters Of Rock" Festival too. They were the opening band that day, on a bill that included AC/DC, WHITESNAKE, B.O.C., BLACKFOOT & SLADE. More bang for your buck back then eh?
MORE - "We Are The Band" 7" (1981) UK
http://rapidshare.com/files/12561238/MORE_-_We_Are_The_Band_7____1981_.rar
MORE - "Live At Donington 1981" (1981) UK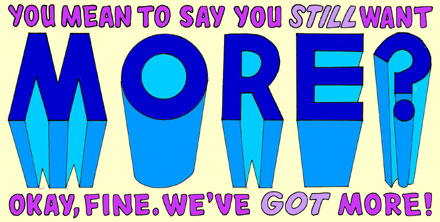 http://rapidshare.com/files/12322740/MORE_-_Live___Donington_1981.rar
Here's some ultra-rare US Metal from 1984, the 200 copies only, one-sided 12" single from GRAVEN IMAGE, the catchily titled "People In Hell Want Ice Water". Saw one recently on E-B*y, starting bid $1200!!! Good strong Maiden/Mercyful Fate styled heaviosity.
GRAVEN IMAGE - "People In Hell Want Ice Water" 12" (1984) USA

http://rapidshare.com/files/12320985/GRAVEN_IMAGE_-_People_In_Hell_Want_Ice_Water_12____1983_.rar
Some excellent Hard Rock up next, the third LEGS DIAMOND album, "Firepower", from 1979. A bit of a transitional album this one, as they moved slightly away from their DEEP PURPLE meets KISS style towards a slicker, more AOR direction, which they pursued fully on their mid-80's albums. There are still some great songs and performances, (with the exception of their awful version of "You've Lost That Lovin' Feelin'"), with "Remember My Name" & "Underworld King" being particular highlights. This is the cd version, so you get some bonus tracks too, enjoy!
LEGS DIAMOND - "Firepower" (1979) USA
http://rapidshare.com/files/12573308/Legs_Diamond_-_Firepower__1979_.rar
Some more US Metal next, from Chicago's IRONHAWK. This is their sole release, 1983's "To The Point!" mini LP, which is another scarce one much prized by collector types, this is probably the only way us average joe's will ever be able to hear a copy without winning the lottery. Good riffing, soaring vocals, widdly-widdly guitar solos. All present and correct.
IRONHAWK - "To The Point!" Mini Lp (1983) USA
http://rapidshare.com/files/12575918/IRON_HAWK_-_To_The_Point_Mini__1983_.rar
Last, but by no means least, another of the ever popular BBC Sessions. This one finds everyone's favourite Filth Hounds, TANK, at the peak of their powers. Here they are creating an almighty racket at the behest of Tommy Vance's BBC Radio 1 Friday Rock Show, way back in 1981.
"T.V., Play That Rock'n'Roll!!!"
TANK - BBC Session (1981) UK
http://rapidshare.com/files/12560172/TANK_-_BBC_Session__1982_.rar
Keep the requests and comments coming, they really help shape the posts and direction of the blog.
Enjoy the music.